Book Review: The Seven Husbands of Evelyn Hugo – Taylor Jenkins Reid *****
Book Review: The Seven Husbands of Evelyn Hugo – Taylor Jenkins Reid *****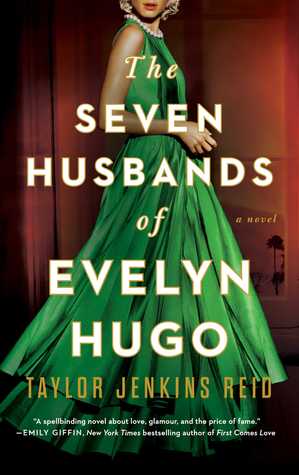 Reclusive Hollywood icon Evelyn Hugo is finally ready to tell the truth about her glamorous and scandalous life. But when she chooses unknown magazine reporter Monique Grant to write her story, no one is more astounded than Monique herself.
Determined to use this opportunity to jumpstart her career, Monique listens in fascination. From making her way to Los Angeles in the 1950s to her decision to leave show business in the '80s – and, of course, the seven husbands along the way – Evelyn unspools a tale of ruthless ambition, unexpected friendship, and a great forbidden love. But as Evelyn's story near its conclusion, it becomes clear that her life intersects with Monique's own in tragic and irreversible ways.
---
A year ago, two books came out around the same time. The titles both had "The Seven….of Evelyn…" on the cover. Back then I chose The Seven Deaths of Evelyn Hardcastle and I never regretted it for even a second because I loved that book. How lucky am I to realize, a year later, that I actually love both of them. They are very different but they are both brilliant books.
Even though this book has been doing the rounds for quite a while now, I still managed to go in knowing very little about the story. Which, in my opinion, is always a plus with hyped books.
A lot of you have probably already read this book, but just in case you haven't: this book is divided into seven parts, all taking about one of Evelyn's seven husbands, or so you'd think. Because as it turns out, most of them are only a minor detail in Evelyn's life.
Some of them make several appearances, some are one hit wonders and are never seen again, one's there from the very start and stays around for as long as he possibly can. They all have their reason for being included, unfortunately sometimes the reason isn't a very good one.
This book is about family in times of Hollywood success. How being a star means you are selling your audience a filtered version of yourself, on and off-stage. And the Evelyn people know is definitely a filtered version.
To be honest, I didn't really like her at first. She's very straight-forward, never apologizes, never bothers with other people's feelings. She's very selfish. But then you get to know her, and you start to understand her and even though I'm still not sure if I like her now that I've finished the book, I appreciate her.
What's great about this book is that it managed to pull me in and make me care about most of the characters. Because we follow her throughout her life, people die, people she cares about, and the grief in those pages is heart-breaking. And I do mean that in: I felt my heart break in those moments, I was in physical pain.
It's not a perfect book. Some of the answers, to questions asked in the beginning of the book, did not satisfy me. Some of the build-up did not get enough room to fully blossom in the end. But it didn't matter, I had already decided that I loved this book, many chapters before we got to those bits.
I'm so happy to have found a book that swept me away. This is officialy the first 5-star read of 2019.